Hearing aids can help improve your communication and awareness by amplifying speech sounds and reducing background noise. If you've decided to start using these small but powerful devices to treat your hearing loss, one thing to watch out for when choosing which style you want is how they interact with cell phones.
Some hearing aids have been known to emit an annoying buzzing noise when used in conjunction with a cell phone. Let's examine why the buzzing sound occurs and what you can do about it.
Where Does the Buzzing Sound Come From?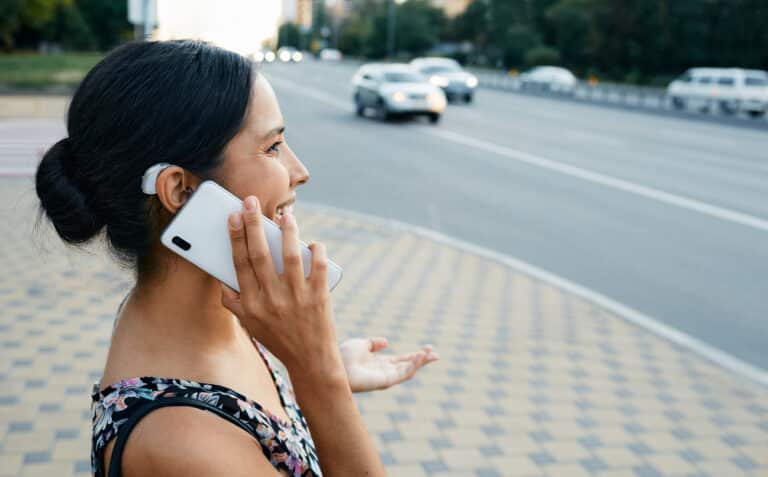 The buzzing noise comes from how hearing aids interfere with the radiofrequency emissions (RF) from your phone. RF interference is not as common as it used to be but should still be considered when purchasing a new device.
To combat device interference, the Federal Communications Commission set a rule that requires cell phone manufacturers to test the hearing aid compatibility of their devices prior to release. Based on the tests, the cell phones will receive a compatibility rating. The higher the rating the devices receive, the less likely it will be that your hearing aids and cell phone will interfere with one another, thereby reducing or stopping the buzzing noise.
How Do I Choose a Cell Phone?
Though RF interference does not occur across all hearing aid and cell phone pairings, you should always check the hearing aid compatibility of your phone before purchasing. There are two ratings you may need to take into account based on your hearing aid type:
For hearing aids set in microphone mode, look for a rating of M3 or M4.
For hearing aids or cochlear implants with a T coil, look for a rating of T3 or T4.
Additionally, keep in mind that some hearing aid and cell phone combinations may work better together based on their combined rating. For instance, if your hearing aid is rated M2 and your cell phone is rated M3, they may provide normal use with a combined rating of M5. If you have questions regarding compatibility, contact your audiologist or cell phone manufacturer to discuss your options.
Whether you talk on the phone at home or when out for a walk at Pioneer Park, you shouldn't have to worry about a buzzing noise in your hearing aid. Once you have chosen the suitable cell phone and hearing aid pairing, you can feel confident talking on the phone anywhere.
Contact San Francisco Audiology today to discuss your hearing treatment options with one of our trusted audiologists.