Approximately one in eight people in the United States aged 12 years or older has hearing loss. Hearing aids can be a great way to minimize the effects of hearing loss and help you enjoy your life to the fullest. One of the ways they do that is by allowing you to connect with other technology.
Available Hearing Aid Technology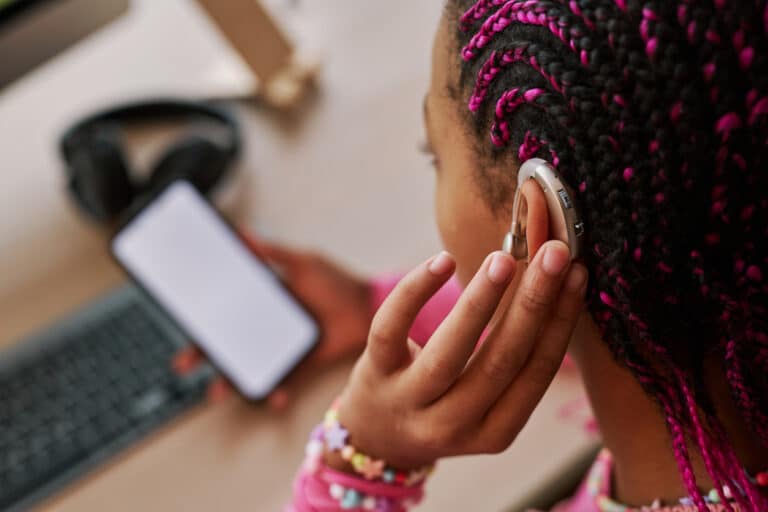 Hearing aid technology changes rapidly. Modern hearing aids offer features like Wi-Fi connectivity, rechargeable batteries and Bluetooth®. Using the Bluetooth function on your hearing aids to connect to other devices, such as your phone, tablet, computer, TV, smartwatch and more, can be a great way to enjoy your new devices.
Connecting With Your Phone, Tablet or Computer
If you have Bluetooth-compatible hearing aids, they should easily connect to any phone, tablet or computer following a few simple steps:
Restart your hearing aids to enable pairing mode.
Open the settings in your device and turn on Bluetooth.
Find your hearing aids in the device's Bluetooth options.
Click "connect" or "pair."
Connecting With Your Smartwatch
Certain smartwatch brands allow you to connect with your Bluetooth headphones. This can be convenient for hearing music or getting directions when you drive out to Baker Beach. Once you have verified that your smartwatch can be connected to your hearing aids via Bluetooth, follow the same steps for connecting to your phone, tablet or computer.
While more and more devices are becoming compatible with hearing aids, you cannot trust that all devices will be. Remember to always check Bluetooth compatibility before you buy.
Connecting With Your Smart TV
Certain smart TV brands will allow you to connect your hearing aids directly to the TV audio via Bluetooth. Once you have verified that your TV can connect to hearing aids, follow the same steps as connecting to your other devices.
Troubleshooting Tips
Technology can be finicky. If you are unable to pair your hearing aids, check this list of quick tips for help:
If hearing aids don't show up in the devices list: This is common. If you have turned on your device Bluetooth and you don't see your hearing aids listed, try restarting your hearing aids again. Sometimes it just takes a couple of tries.
If you're not sure if your device is compatible: Most phones, tablets and computers are Bluetooth compatible. If you're unsure about another device, check the manual or speak to the manufacturer.
If your devices become disconnected: This can happen from time to time. While most devices should stay paired until you remove them, you may need to occasionally reconnect them following the pairing steps.
If you have questions about the Bluetooth capabilities or other possible benefits of your hearing aids, call San Francisco Audiology to speak to a hearing specialist today.