Shopping with hearing loss can be a stressful experience. Whether you're buying clothes, food, school supplies or other items, a busy store can sometimes feel overwhelming and confusing. Check out our list of tips for navigating your shopping trip with hearing loss.
Choose the Right Stores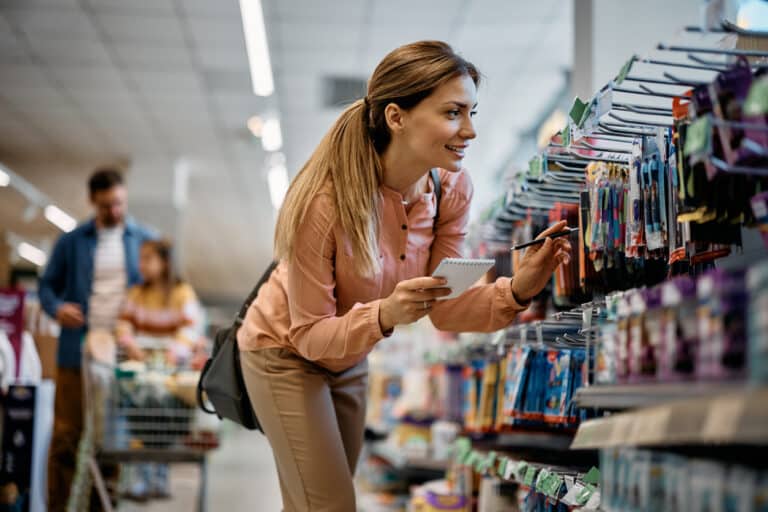 With hearing loss, commotion from a busy store can make attempting to understand people feel difficult and overwhelming. Try swapping larger box stores for smaller boutiques, such as Two Birds, or opting for local grocery stores over national chains. Not only will shopping at a small business help ease the stress of shopping with hearing loss, but it can also help support the local economy.
Use Self-Checkout
A lot of the stress of shopping with hearing loss comes from interacting with the cashier or salesperson. If you find understanding the cashier at your favorite local store challenging or frustrating, consider using the self-checkout machines. While they are not available at all stores, self-checkout lanes display important information as text on the screen, ensuring that you aren't missing vital information.
Plan Your Trip
A shopping list can help prevent left-behind items and remove a lot of stress from your trip. Try to organize your list in sections according to where they are in the store to prevent needing to run from one end of the store to the other multiple times.
Remember Your Hearing Aids
Approximately 28.8 million U.S. adults could benefit from the use of hearing aids. The small but technologically advanced devices have a microphone that collects sound, an amplifier that raises its volume and a speaker which transmits it directly into the ear canal. Hearing aids can clarify speech and help you stay more aware of your surroundings, leading to a stress-free shopping expedition.
With hearing loss, difficulty with communication and decreased awareness of your surroundings can create a stressful shopping experience. Following these four tips will help ease your stress and maybe even make your next shopping trip a little more fun.
Contact San Francisco Audiology today to make an appointment with a specialist to discuss hearing loss management tools.