It's believed that about 20 percent of the adult population in the Bay Area struggles with hearing loss to some extent. Many people associate hearing impairment with senior citizens, but in reality, the condition affects people of all ages—especially when it's the result of noise exposure. Learning to listen to music through headphones safely will help keep your hearing healthy for years to come.
The Hazards of Headphones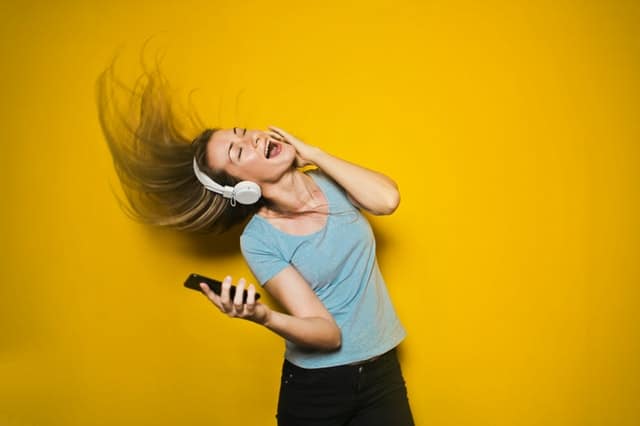 There are many possible causes of hearing loss, and noise tops the list. When volume levels exceed 85 decibels (dB), the hair cells of the inner ear can suffer damage. Your safe exposure time to sounds this loud (roughly equivalent to San Francisco street traffic) is eight hours. For every three-decibel increase in sound above that level, your safe listening time is cut in half.
The cumulative effects of noise exposure over time take a toll on your hearing. You are more likely to experience hearing loss when exposed to high-risk occupations, like construction and manufacturing, and when you participate in noisy activities such as concerts, sporting events and motorcycle rides. One of the biggest potential risks involves something many of us do every day: listening to music through headphones. This is one of the top causes of hearing impairment in young adults.
Adopt Safe Listening Habits
Adopting safe listening habits will help prevent hearing loss. Your San Francisco audiologist says to practice the following tips when listening to music through headphones.
Lower the volume

The most effective way to protect your hearing when listening to music is to turn down the volume. Seems pretty basic, right? Experts recommend setting the volume level to no more than 60 percent of maximum. If the music coming from your headphones is loud enough for others to hear, it could be damaging your hearing.

Wear noise-cancelling headphones

Headphones are often used to drown out background noise, helping us concentrate on important tasks at hand. The problem is, the louder the environmental noise, the higher we turn up the volume. Noise-cancelling headphones utilize a technology called active noise reduction; this limits outside noise by generating a sound signal that cancels out background sounds. This allows you to listen to music at a lower volume level and makes it less likely that you'll need to adjust the volume higher the longer you listen.

Choose headphones over earbuds

Earbuds have become wildly popular in recent years, especially as smartphones have become ubiquitous. These small silicone or plastic devices are placed directly in the ears as opposed to headphones, which are worn over the ear. It's a subtle but important difference: the closer the sound source is to your eardrum, the more likely you are to experience hearing damage.

Adopt the 60/60 rule

Taking a break from music periodically in order to give your ears a rest will help prevent long-term hearing damage. Experts recommend the "60/60 rule": listening to music at 60 percent of your device's maximum volume for 60 minutes at a time and then taking a break.

Set a volume limit

Many phones and other devices allow the user to adjust the settings so there is a limit on the maximum volume. Check your user manual to see whether this is an option on your listening device.
For more tips on listening to music safely and protecting your long-term hearing, reach out to an audiologist in San Francisco.